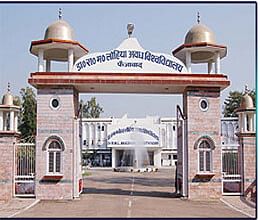 Syllabus:
http://www.rmlau.ac.in/syllabus.aspx
Exam Schedule:
http://www.rmlau.ac.in/Server.htm?aspxerrorpath=/entrance_exam_schemes.aspx
Results:
http://www.rmlau.ac.in/results.aspx
Contact Persons:
Prof. R.C. Saraswat
Vice-Chancellor
05278-246223
vc@rmlau.ac.in
S.K. Shukla
Registrar
05278-245957
registrar@rmlau.ac.in
Sri. Akhilesh Chandra
Controller of Examination
05278-245910
coe@rmlau.ac.in
Contact Details:
Hawai Patti, Allahabad Road
City: Faizabad
Pin code : 224001
State: Uttar Pradesh
Phone: 05278-245957
Fax: 05278-246330
Web:
http://www.rmlau.ac.in/index.aspx
About:
Avadh university which was established as Dr. Ram Manohar Lohia Avadh University in memory of late Dr. Ram Manohar Lohia an epic socio-economic ideologue and freedom fighter par excellence. The government of Uttar Pradesh exercising the powers enshrined in the U.P. University Act, 1973 section 4 (1-A) (b), by it's notification No. 4546/ 15-10-75 dated 25 July, 1975 established University as sheer an affiliating university. The university assumed the shape of residential University in the year 1984.

The residential segment became functional with the opening of the four departments in the campus viz. history, Culture and Archaeology, Rural Economics, Mathematics and Statistics and Solid State Physics.There are different courses run by the university for the students who are pursuing their studies from this university. This university was established with the motive to provide higher education to the students residing in the state. The prominent courses run in the university are M.sc. in Biotechnology, M.sc. in computer science, M.A / M.sc. in military Science, M.T.A., M.sc. Mathematical Ecology & Environment studies. At the Under Graduates level the courses to be launched in the campus are B.B.A. and B.C.A.