Results : Aligarh Muslim University
News

From Aligarh Muslim University
Aligarh Muslim University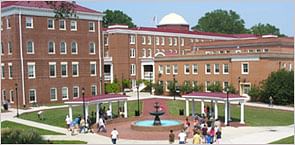 The university grew out of the work of Sir Syed Ahmad Khan, the great Muslim reformer and statesman, who in the aftermath of the Indian War of Independence of 1857 felt that it was important for Muslims to gain education and become involved in the public life and government services in India. Raja Jai Kishan helped Sir Syed in establishing the university.

The British decision to replace the use of Persian in 1842 for government employment and as the language of Courts of Law caused deep anxiety among Muslims of the sub-continent. Sir Syed saw a need for Muslims to acquire proficiency in the English language and Western sciences if the community were to maintain its social and political clout, particularly in Northern India.

He began to prepare foundation for the formation of a Muslim University by starting schools at Moradabad (1858) and Ghazipur (1863).His purpose for the establishment of the Scientific Society in 1864, in Aligarh was to translate Western works into Indian languages as a prelude to prepare the community to accept Western education and to inculcate scientific temperament among the Muslims. The intense desire to ameliorate the social conditions of Indian Muslims led Sir Syed to publish the periodical, 'Tehzibul Akhlaq' in 1870.

It was one of the first purely residential educational institutions set up either by the government or the public in India. Over the years it gave rise to a new educated class of Indian Muslims who were active in the political system of the British Raj. When viceroy to India Lord Curzon visited the college in 1901, he praised the work which was carried on and called it of "sovereign importance".

The college was originally affiliated with the University of Calcutta and subsequently got affiliated with the university of  Allahabad in 1885. Near the turn of the century, the college began publishing its own magazine, The Aligarian, and established a Law School.

Amar Ujala Results website aims to cater to the latest Board, University and Sarkari Naukri Results; along with the latest notifications, on Admit Card, Answer Key, Counselling dates and Career/ Exam Preparation tips. Register on Amar Ujala Results Website for fastest results on UP board, Uttarakhand board, Jharkhand board, Himachal Pradesh board, Haryana board, AP (Andhra Pradesh) board, WB (West Bengal) board, and Gujarat board exams.
© 2022-23 Amar Ujala Limited. All Rights Reserved.