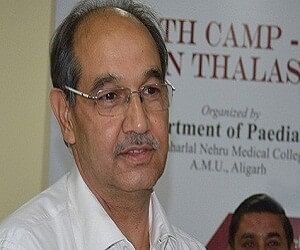 New Delhi

Tariq Mansoor, principal of AMU's Jawaharlal Nehru Medical College and Hospital, has been appointed as the new Aligarh Muslim University vice-chancellor (V-C). He will succeed Lt Gen (retd) Zameeruddin Shah.
According to reports, Lt Gen (retd) Shah will retire on May 17.
While three candidates including Mansoor were in the fray for the post of V-C of the prestigious university, President Pranab Mukherjee on Wednesday appointed Tariq Mansoor as AMU V-C.
"I do not know anything about this as I have not received an official communication or order from the government yet," Prof Mansoor told The Indian Express.
Highlights
Prof Tariq Mansoor is new Aligarh Muslim University Vice-Chancellor.
He will succeed Lt Gen (retd) Zameeruddin Shah.

Brief information about new AMU VC Name
: Tariq Mansoor
Date of Birth
: September 20, 1956
Education
: Prof Mansoor completed his MBBS from the JN Medical College in 1978 and MS (Surgery) in 1982. He is also an Alumni of AMU.
Image Courtesy: Financial Express