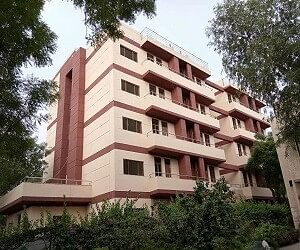 105-bed hostel is getting constructed by Janki Devi Memorial College, Delhi University which is soon going to be functional in the coming academic session. The college provides women education.
The hostel will solve the issues of the students facing difficulties in PG accommodation and private hostels even the — security which is the prime concern, followed by the food facility said the principal of the college. The hostel would assure 24x7 security, as it is on the college campus, with CCTV cameras and security officers guarding it.
The hostel will provide laundry facility, dining area and kitchen. The ground floor of the hostel would be reserved for the physically challenged students and is custom-built.
35 rooms and a common room will be there in the hostel. With attached toilet facilities, each room can accommodate three students. The rooms would be allocated after internal consultation.
The guidelines regarding the allotment of rooms would be decided by the governing body of the college. However, the criteria would be almost the same as those for other DU colleges' hostels. 
The college is also being environment-friendly, as it has solar panels, LED lights and a rainwater harvesting system.