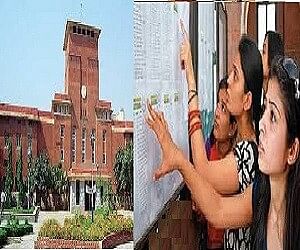 New Delhi
Delhi University has released the first cut-off list merit based undergraduate programmes for the academic year 2017-2018.
"The first cut-off list f or admissions to various Undergraduate Courses (based on merit) of the University of Delhi for the Academic Year 2O17-2O18 will be notified/ displayed by different colleges of the University on Saturday, the 24th June, 2017," DU said in a press release.
The university pointed out that the eligible candidates who meet the requirements notified in the First Admission cut-off list are further advised to complete their admission formalities in the Colleges concerned within the stipulated time.
However, the application process for nine courses commenced at 6:00 pm last Friday.
The nine courses for which entrance exam will be conducted this year as follows:
Bachelor of Management Studies (BMS)
Bachelor of Business Administration (Financial Investment Analysis)
B.A. (Hons.) Business Economics
B.A. (Hons.) Humanities and Social Sciences
Bachelor of Elementary Education (B.El.Ed.)
Bachelor of Science in Physical Education, Health Education & Sports: B.Sc. (P.E., H.E. & S.)
B.A. (Hons.) Multimedia and Mass Communication
B.Tech. (Information Technology and Mathematical Innovations)
B.A. (Hons.) Music
About Delhi University
The University of Delhi (UOD) informally known as Delhi University (DU) is a public central collegiate university, located in New Delhi, India.The University of Delhi was established in 1922 as a unitary, teaching and residential university by an Act of the then Central Legislative Assembly of the British India.