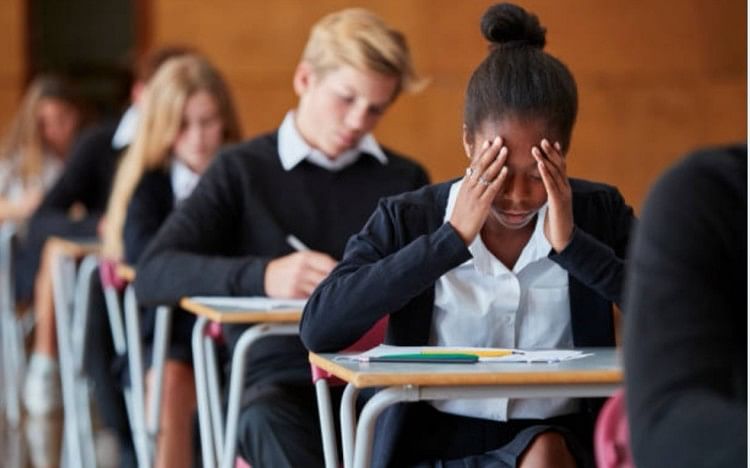 The onset of New Year 2022 has sparked off a flurry of enthusiasm among people, who are excited to accomplish things which went unchecked on their bucket list in 2021. However, the priority is somewhat different for Class 12 students. Arrival of New Year 2022 amidst the chilling winters is a gentle reminder for Class 12 students to brace up to give their best shot in the Board exams slated to take place in March 2022. Notably, the exams will extend till April and the results will be announced in the month of May 2022.
However, it is difficult to determine a student's ordeal who is battling on numerous fronts, beginning from the exam preparations till the announcement of the results. Anxiety, fear and self-doubt are ubiquitous among the students ahead of the board exams, which arise due to a number of factors such as parents' high expectations from their children, vast course structure, a highly competitive environment, sleep deprivation in a bid to cover the course within the stipulated time and other unlisted reasons. Many of them even tend to give in to exam fear and anticipate that they are going to be a complete failure their entire life. Another collywobble of contracting the Covid-19 virus adds to the students' woes, whose mental health is already afflicted by rapid transmissibility of Covid-19 virus.  
How not to feel anxious and ensure better exam preparations?:
Amidst the aforementioned conditions, here are sundry tips that would prove fruitful for students in subsiding the exam fear and uprooting other negative emotions. Some of them are listed herewith:  
Reflect on your dreams: A famous quote by the renowned motivational speaker, author, podcaster and blogger of American descent, Michael S. Hyatt once said, "Whenever you want to give up, remember why you started", which is an outstanding motivational dose, especially for students who surrender to negative emotions before appearing for the paper. If one reflects on their ambitions and the tough time they have reeled under while preparing for the exams, they would surely be not willing to give up in the last leg of the exam preparations and will ace it certainly.
Study the paper pattern thoroughly: The most pivotal element that triggers fear in students is the factor of not being well-versed with board exams' paper pattern and inexperience. Here lies the key to mastering the pattern of the board exams. Students must cover their course within the time frame, so that they could spare enough time to solve the papers to get a hang of the question-paper pattern.
Explore the world beyond books: As the academic session starts wrapping itself up and board exams march closer, coaching institutes and school teachers start becoming less available for students. This proves detrimental for those who are studying until the last minute and encounter multiple doubts during their revision. However, thanks to the advent of Digital study platforms like YouTube, Unacademy, Coursera and many more, where students of all the streams can clarify their doubts merely by logging on to these platforms.
Finally, stop visualizing failure: As the biggest guidebook of life, Shrimad Bhagavad Gita suggests, concentrate on your work/deeds and not on the results, the saying stands true for such aspiring students as well, who must comprehend the fact that their hard-work is in their own hands, while the result is not. Thus, students must constantly remind themselves to rely on their hard-work and efforts, while what is best for them will automatically follow.