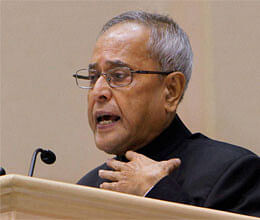 President Pranab Mukherjee Thursday inaugurated a campus of the Aligarh Muslim University (AMU) here in West Bengal's Murshidabad district.
Speaking on the occasion, the president said the university would serve students from the region who have been migrating to the AMU in Uttar Pradesh because of its academic excellence.
Refering to Sir Syed Ahmad Khan's remarks while laying the foundation stone of the Muhammadan Anglo Oriental College - now known as AMU - that the seed would mature into mighty tree from whose roots would sprout saplings, Mukherjee said: "The AMU Murshidabad Centre is a true example of the sapling that has sprouted to extend education."
Speaking at another programme, Mukherjee urged students to attain proper eligibility to harness opportunities being provided for higher education.
The president said opportunities for studying post graduate courses in AMU Centre Murshidabad, could not be availed of unless students acquire the requisite qualification and are successful in the entrance examination.
The work on the AMU centres at Murshidabad and Kerala's Mallapuram were started in 2010 and the centre at Bihar's Kishanganj in 2012.
In 1875, the AMU's journey began as Muhammadan Anglo Oriental College, an affiliate of the Calcutta University. Ten years later, in 1995, it was brought under Allahabad University, and then upgraded to a university in 1920.
Mukherjee had represented Jangipur Lok Sabha constituency from 2004 to 2012, when he was elected to the nation's highest office.