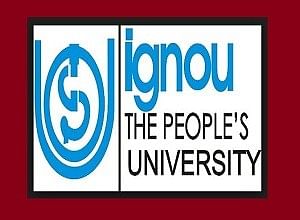 Indira Gandhi National Open University (IGNOU) has decided to extend a discount of 15% to students who opt for a softcopy of the study material.
The move would facilitate quick delivery of the study material to students.
This would also give impetus to the Digital India movement of Government of India.
The scheme is open to all students enrolled/re-registered in July 2018.
In the first phase, the scheme is made available to students who have taken admission online.
For the rest, a solution is being worked out. 
An option form has been created on the online admission platform.
As soon as a student logs in, s/he is taken to the Option Form.
Thus, the student can exercise his/her option of receiving digital/printed study material using the same login.
A link to the options form has been provided on the university website under 'Alert' section -"Use digital study material, enjoy fee discount".
An IGNOU e-content App for digital content of IGNOU available on eGyankosh has been prepared and is available on Google Play store.
It can be downloaded from the link 
https://play.google.com/store/apps/details?id=ac.in.ignou.Viewer
Students can also approach their Regional Centre for submitting their option for digital study material.   
Indira Gandhi National Open University in association with Gandhi Smriti & Darshan Smriti has launched a Certificate programme on "Peace Studies and Conflict Management" for the pan India Jail inmates.
The certificate programme aims to help jail inmates become better citizens once they go out and join the mainstream. The launch function was held at the Gandhi Smriti.
Dr. Vinay Sahasrabuddhe, Member of Parliament (Rajya Sabha) and President, Indian Council of Cultural Relations were present as the chief guest.
Tara Gandhi Bhattacharjee, granddaughter of Mahatma Gandhi has narrated about her recent visits to Italy and her experience shared with her by jail inmates. 
Laxmi Dass, Vice President, Harijan Sewak Sangh and EC member GSDS welcomed the dignitaries and the guests.
Prof. Nageshwar Rao, VC, IGNOU and Prof D Gopal, School of Social Sciences (SOSS), IGNOU also attended the function.
Laxmi Dass in his welcome address highlighted the importance of the programme on peace & conflict management and has lauded steps taken by IGNOU in the 150th birth anniversary of Mahatma Gandhi towards the rehabilitation and mainstreaming of the jail inmates.
Related Articles

on Admission Diary